Wedge Shaped Rubber Extrusions
Wedge rubber profiles, also known as window and glazing seals, have a wedge-shaped design and come in a wide range of sizes and styles. The most common application for wedge gaskets is window and door applications, where they seal out moisture and debris, and prevents drafts. Wedge rubber seals install by pressing the seal into the gap between the glass and window or door frame, creating a seal around the perimeter of the glass.
Custom Wedge Gaskets for Door and Window Sealing
Northwest Rubber Extruders, Inc. handles all tooling and extrusion processes in-house to deliver wedge rubber seals with tight tolerances and accurate profiles. We work with customers from various industries and have the expertise and equipment to handle small or large production runs. Custom wedge rubber profiles are an excellent option for any application to ensure you get a tight and reliable seal in a material that meets your performance requirements.
We offer window and glazing seals in sizes from 1/16" around to 14" wide, in straight lengths up to 20' and coiled lengths up to 200'. Contact us t get started in your wedge gasket project!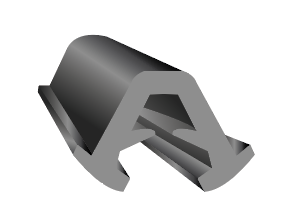 Material Options for Custom Window and Glazing Seals
Our team will help you find the material that works best for your applications. In addition to the options below, we can combine the properties of two materials to create a truly unique wedge rubber seal. Standard material options include:
Chloroprene (Neoprene®): excellent weather resistance and flame resistance
EPDM: great weather and ozone resistant properties
Natural rubbers: good abrasion and tear resistance, along with dynamic flex fatigue characteristics
Nitrile (Buna N): oil resistance and high durability
SBR: general-purpose, low-cost rubber material with good abrasion resistance
Contact Us for Custom Wedge Rubber Profiles
Northwest Rubber Extruders, Inc. provides wedge gaskets and several other rubber extrusion profile shapes for residential, commercial and industrial sealing applications. Request a quote for wedge rubber seals or contact us for additional information.