U Shaped Rubber Extrusions
U shaped rubber tubing provides edge protection for panels and to seal out moisture around windows, doors, and other sealing applications. They are manufactured using the extrusion process, which creates continuous, molded profiles that can be cut to specified lengths. U profile rubber tubing comes in shapes including oval, circular, and square and are used in a variety of home, automotive, construction, and commercial sealing applications.
Custom U-Shaped Rubber Shapes in the Size and Material You Need
Northwest Rubber Extruders, Inc. is a leading custom rubber extrusion manufacturer. We produce custom rubber U shapes and other custom rubber extrusion profiles in a variety of shapes and materials to meet your sealing requirements. Our highly trained staff uses innovative, lean processes to produce U profile rubber tubing and other products for a broad range of commercial and industrial applications. Available sizes range from 1/16" around to 14" wide, in straight lengths up to 20' and coiled lengths up to 200'.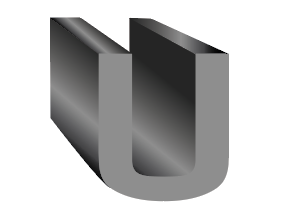 U Profile Rubber Tubing Materials
We offer several material options for extruded U-shaped rubber shapes, including standard blends that combine the physical properties of two or more materials.
Chloroprene (Neoprene®) is ideal for applications requiring high water, flame, and weather resistance.
EPDM for weatherstripping and other applications requiring weather and ozone resistance.
Natural rubbers provide dynamic flex fatigue characteristics along with tear and abrasion resistance.
Nitrile (Buna N) for gaskets and applications requiring an oil resistant material.
SBR offers good abrasion resistance and is an excellent and low-cost option for general purpose applications.
Contact Us to Discuss Custom U Profile Rubber Tubing Options
Northwest Rubber Extruders delivers extruded custom rubber U shapes in the size and style you need, whether it's a short run or quantities in the tens of thousands. Request a quote for U profile rubber tubing or contact us to learn more.