H Shaped Rubber Extrusions
H shaped rubber shapes are extruded rubber profiles with a horizontal cross-section. Typical applications for H profile rubber tubing include use as seals, glazing seals, and filler strips in window sealing applications.
Custom H Shaped Rubber Shapes
Northwest Rubber Extruders, Inc. provides H profile rubber tubing for sealing applications across a wide range of industries. We make all our dies in-house to maintain control over design, quality, and accuracy and accommodate large and small runs. Our team delivers H profile rubber tubing in sizes from 1/16" around to 14" wide, in straight lengths up to 20' and coiled lengths up to 200'.
Customized H profile rubber tubing provides several benefits over choosing from stock profiles at your local retailer, including:
Customized design based on your specific sealing needs
Choice of color, material type, and durometer
Option of continuous or cut-to-length profiles
Materials that meet your performance requirements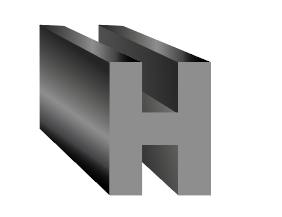 H Profile Rubber Tubing Materials & Options
We offer a variety of H profile rubber tubing materials to meet your sealing needs. Select the material that best fits your requirements from the options below or contact us to discuss our standard blends.
Chloroprene (Neoprene®) provides high water, flame, and weather resistance for high-performance applications.
EPDM has weather and ozone resistant properties that make it ideal for outdoor use.
Natural rubbers have dynamic flex fatigue characteristics and provide good abrasion and tear resistance.
Nitrile (Buna N) is a popular choice for gaskets because of its durability and oil resistance.
SBR is an affordable general-purpose rubber material with good abrasion resistance.
Request a Quote for H Shaped Rubber Shapes
Northwest Rubber Extruders, Inc. produces custom rubber H shaped profiles in the size and material you need. Request a quote or contact us to learn about our other custom rubber extruded products.