D Shaped Rubber Extrusions
D-profile rubber tubing, also known as "D" profiles or "D" shapes, provide a soft seal and can be solid or hollow. They are manufactured using extrusion, which creates a continuous profile that is cut to specific lengths. Most custom rubber D shapes also require vulcanization after extrusion to improve hardness, tensile strength and weather resistance.
Standard configurations include single D, double D, and open D profiles, all of which are produced in different heights and widths. D shaped rubber shapes are used as bumpers, seals, and filler strips to reduce noise or vibration and seal out moisture, fluids, gases, dust, and other contaminants.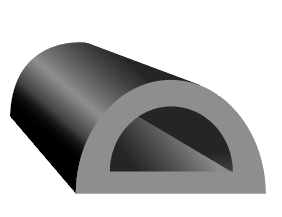 Extruded Custom Rubber D Shapes
Northwest Rubber Extruders, Inc. produces custom D profile rubber tubing and other extruded products for a variety of markets including automotive, marine, industrial, manufacturing, and construction. We extrude D profile rubber tubing in sizes from 1/16" around to 14" wide, in straight lengths up to 20' and coiled lengths up to 200'.
We perform all processes in-house, allowing us to maintain the tight tolerances and accurate profiles your design requires. Our team can also deliver custom products that meet a variety of industry specifications. Contact us today to learn more.
Material Options for D-Shaped Rubber Shapes
Material selection is based on toughness and flexibility, as well as resistance to heat or cold, chemicals, and UV or fluorescent light. Our team can help you determine which material is best for your sealing application and environment.
We extrude D-shaped rubber shapes with a range of durometers and using materials including:
Chloroprene (Neoprene®) provides high water, flame, and weather resistance.
EPDM is weather and ozone resistant.
Natural rubbers are tear and abrasion resistant and have dynamic flex fatigue characteristics.
Nitrile (Buna N) is oil resistant and an excellent choice for gaskets.
SBR is a general-purpose, low-cost rubber extrusion material with good abrasion resistance.
and numerous standard blends, which can provide the combined physical properties of two or more materials.
Request a Quote for Custom D Profile Rubber Tubing
Request a quote for custom rubber D shapes or contact us to learn more about our rubber extrusion capabilities.