T Shaped Rubber Extrusions
T-shaped rubber extrusions have a flat or curved top and a T-shaped section. They are commonly used for weather stripping and as a gasket to prevent fluid leakage from cracks and gaps. T-shaped rubber strips also reduce noise and shock and provide insulation. Some of the applications where T-shaped rubber profiles are used include automotive, pharmaceutical, aerospace, glass and windows, agriculture, and food processing.
Custom T-Shaped Rubber Profiles for Effective Sealing
Northwest Rubber Extruders, Inc. manufactures custom T-shaped rubber profiles and other extruded products in-house to achieve accurate profiles and tight tolerances. Our T shaped rubber extrusions are available in sizes from 1/16" around to 14" wide and in straight lengths up to 20' and coiled lengths up to 200'. Upon request, we can also extrude T-shaped rubber strips to meet a variety of industry specifications. Contact us today to learn more.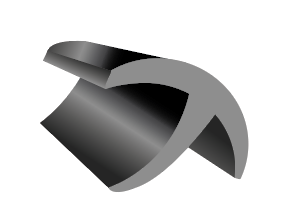 T-Shaped Rubber Strip Material Options
Most extrusion materials are unvulcanized to maintain a soft and pliable texture, then vulcanized prior to use to increase strength and wear resistance. We work with a variety of synthetic rubber materials and can help you select the right option based on your application and operating environment.
Our selection of T-shaped rubber strip materials includes:
Chloroprene (Neoprene®): high water, flame, and weather resistance.
EPDM: weather and ozone resistant.
Natural rubbers: tear and abrasion resistant, dynamic flex fatigue characteristics.
Nitrile (Buna N): oil resistant, an excellent choice for gaskets.
SBR: low cost andgeneral purpose, offers good abrasion resistance
and numerous standard blends, which can provide the combined physical properties of two or more materials.
Contact Us for Custom T-Shaped Rubber Profiles and More
We provide custom T-shaped rubber profiles and other extruded products for a wide variety of markets. Request a quote today or contact us to learn more about our capabilities.