Omega Shaped Rubber Extrusions
Rubber omega seal extrusions have a T-shaped bar and hollow bulbous seal for flat panel sealing applications. Many omega seals also have a slight hump in the center of the flat portion resists bowing, making them a great alternative to D-shaped profiles and other shapes that sometimes deflect when compressed.
Omega seals fill high clearance gaps and provide low closure force sealing. They are a popular choice in electronics and telecommunications applications and are used to weatherproof doors and windows in residential, commercial and industrial applications
Rubber Omega Seal Extrusions Based on Your Design
Northwest Rubber Extruders, Inc. manufactures rubber omega profiles based on your design and material specifications. We handle all die tooling in-house to ensure dimensional accuracy have the equipment to handle production runs both large and small. Our capabilities include rubber omega seal extrusions in sizes from 1/16" around to 14" wide, in straight lengths up to 20' and coiled lengths up to 200'.
We offer complete customization to provide rubber omega seal extrusions in the exact length, material, and size you need. Our team has extensive knowledge of tooling and extrusions processes and provides customized solutions for customers across a broad range of industries. Contact us to discuss your omega seal design needs!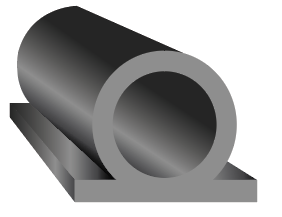 Selecting a Material for Your Custom Rubber Omega Profiles
We offer a variety of standard and high-performance materials for creating your rubber omega profiles. Your options are not limited to the materials listed below. If you need a specialty material or are interested in combining materials to achieve specific properties, we can find a solution that meets your needs.
Chloroprene (Neoprene®) provides excellent weather resistance and flame resistance for demanding sealing applications.
EPDM is an ideal option for outdoor applications because of its weather and ozone resistant properties.
Natural rubbers provide good abrasion and tear resistance along with dynamic flex fatigue characteristics for a range of sealing applications.
Nitrile (Buna N) has high durability and oil resistance and is primarily used for gasket manufacturing.
SBR is a low-cost, general-purpose rubber material that provides good abrasion resistance.
Request A Quote for Custom Rubber Omega Seal Extrusions
Northwest Rubber Extruders, Inc. provides custom omega seals and other extruded seal shapes to meet your unique sealing needs. Request a quote today or contact us to learn more about our capabilities.