Custom Rubber Extruded Products, Silicone Extruded Products & Plastic Extruded Products
Northwest Rubber Extruders has been a full-service provider of rubber extrusions, silicone extrusions, and plastic extrusions. We offer short-run, quick-turn manufacturing, as we as full production runs at quantities in the tens of thousands. In addition to our standard extruded products, we also deliver custom rubber extruded products, plastic extruded products, and silicone extruded products that are tailored to match our customers' unique requirements.
We utilize "lean" production processes and new, innovative tools and techniques to produce the highest quality custom extruded products while maintaining very short lead times. All extrusion dies are made in-house, and our laser micrometer monitoring process ensures tight tolerances for accurate profiles. We also offer a wide variety of value added services to make our rubber, plastic, and silicone extruded products even better.
What Are Rubber Extruded Products?
The rubber extrusion process begins with a rubber compound being heated and fed into an extruder, where revolving screws carry the rubber toward a specially-made die in the desired shape of the extruded component. Temperature and pressure increase as the material is forced through the die opening. As it passes through the opening, the rubber tends to swell to a certain extent, based on its chemical formula and hardness; plus/minus tolerances must often be designed into the parts cross-section to account for this.
The rubber materials used in extrusion are often left unvulcanized prior to the process, leaving the rubber in a softer and more pliable state post-extrusion. Therefore, most rubber extruded products need to be vulcanized before use. Depending on the type of rubber used, vulcanization will cause the material to either swell or shrink, both in its cross section and its length. A length of rubber extrusion most often experiences greater reduction or increase in dimensions at the center than at its ends.
The term "rubber extruded products" is sometimes used to refer to extrusions in general, though extruded products can also be made from silicone, plastic, or other materials.
From aircraft seals to rubber tubes and more, Northwest Rubber Extruders can provide custom extruded rubber products for nearly any application. We can deliver rubber extruded products in sizes from 1/16" around to 14" wide and in straight lengths from 20' and in coiled lengths up to 200'. We use EPDM, chloroprene, Buna N, and other high-quality materials to produce custom rubber extruded products.
Based on your specifications, we can produce extruded silicone cables, door seals, expansion joints, and other custom silicone extruded products. We can manufacture the silicone extruded products you need in sizes from 0.024" OD up to 18" across, and in virtually any color, using general purpose silicones, high strength silicones, phenyl silicones, custom compounds, and other specialty materials.
We can provide custom plastic extruded products that match your unique requirements, including automotive gaskets, rail boots, dual durometer seals, and much more. Our extrusion expertise enables us to produce plastic extruded products as small as 0.030" and as large as 14" across. We utilize PVC, HMW PVC (high molecular weight PVC), TPV, SEBS, and other durable, flexible plastic materials.
Extruded Product Materials
Selecting the right material for your silicone, rubber, or plastic extrusion products is one of the most important steps when planning your project. Choosing the right extruded products manufacturer will ensure that your part is made successfully, performs properly, and is delivered to you at the lowest possible cost.
If you're not sure what material is the right choice for your extruded products, Northwest Rubber Extruders' experienced staff can assist you in selecting the proper material for your needs. We stock most common commodity-grade materials and a wide range of engineering-grade plastics, rubbers, and silicones. Our relationships with plastic resin suppliers ensure our ability to procure any materials that your job may require at a competitive price.
Common Materials for Extruded Products
Chloroprene (Neoprene®): excellent Freon® and ammonia resistance; good chemical and weather resistance; moderate water, high temp, and petroleum oil resistance; -40°F to 250°F (-40°C to 121°C)
EPDM: excellent weather resistance; good low temperature, heat, and chemical resistance; -60°F to 300°F (-51°C to 149°C)
Natural rubber: excellent compression set resistance; high resilience; good abrasion and tear resistance; FDA approved; -60°F to 220°F (-51°C to 104°C)
Nitrile (Buna N): excellent compression set resistance; excellent tear and oil resistance; good abrasion resistance; -20°F to 210°F (-29°C to 99°C)
SBR: good brake fluid and water resistance; -50°F to 212°F (-45°C to 100°C)
PVC: good weather, water, acid, and base resistance; good tear strength; -20°F to 180°F (-29°C to 82°C)
HMW PVC (High Molecular Weight): good low temperature and UV resistance; good tear strength and flex fatigue; -58°F to 220°F (-50°C to 104°C)
TPV: good weather, abrasion, and low-temperature resistance; -75°F to 210°F (-59°C to 99°C)
Standard and custom blends: combining beneficial characteristics of two or more materials
and many more
Quality Certifications
Northwest Rubber Extruders is ISO 9001, AS 9100, and IATF 16949 registered for quality assurance.
Extruded Product Specifications
We can manufacture silicone, rubber, and plastic extruded products to meet numerous customer, industrial, and international specifications. These include, but are not limited to:
AMS
ASTM D-2000
BMS
FDA
ZZ-R-765
SAE-J 2558
UL 94
FM-USS
Mil-specs
Contact Us for Custom Extruded Products
Northwest Rubber Extruders is the only manufacturer you need for custom plastic extrusion, rubber extrusion, and silicone extrusion. Request a quote on extruded products for your application, or contact us for more information on our extrusion capabilities.
Silicone Extruded Products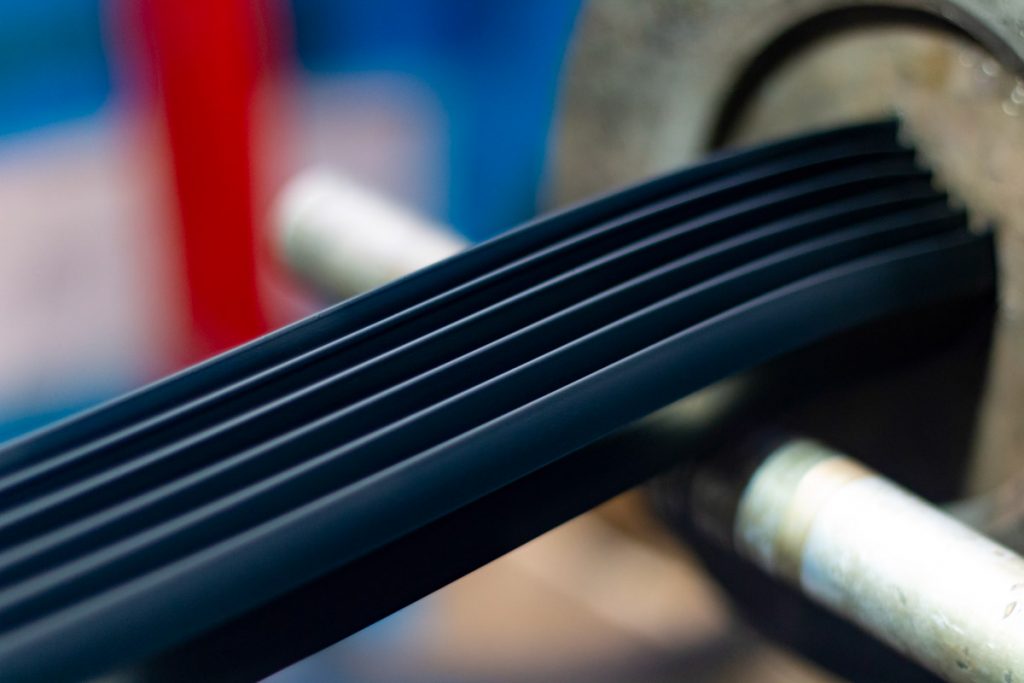 MATERIALS
Custom compounds
Fluorosilicone
General purpose
High strength silicone
Phenyl silicone
Durometer 20A to 80A
SPECIFICATIONS
AMS
ASTM D-2000
BMS
FDA
ZZ-R-765
---
Rubber Extruded Products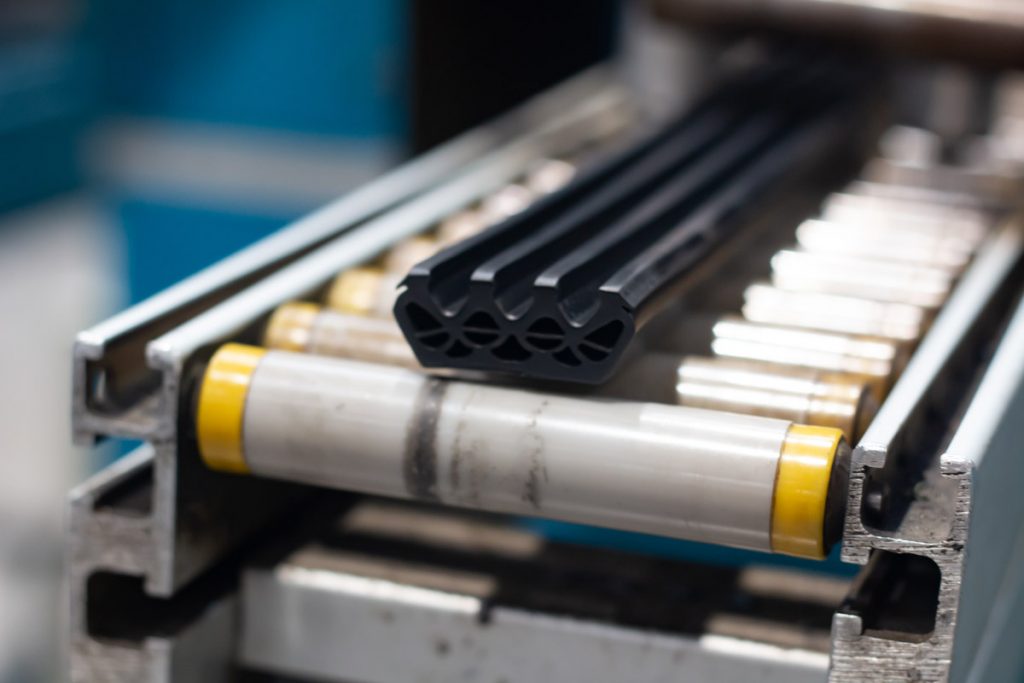 Chloroprene (Neoprene®)
EPDM
Fluorocarbon
Natural rubber
Nitrile (Buna N)
SBR
Standard blends
Durometer 25A to 90A
AMS
ASTM D-2000
BMS
FDA
FMVSS
MiL-Specs
---
Flexible Plastic Extruded Products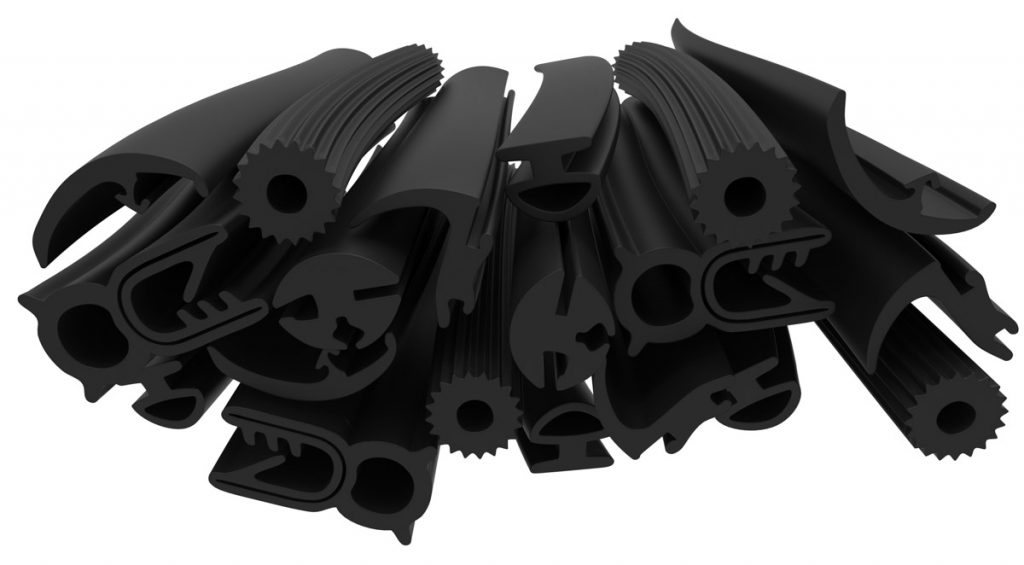 HMW PVC
PVC
SEBS
TPO
TPV
Durometer 30A to 95A